In this day and age with the current era of social media, talents all over the world have an opportunity to display what they have got! like never before!
As we browse through the internet, we are constantly getting surprised watching significantly skilled and smart people globally, but only few will make it here for inspirational and or entertainment purposes! There is no better example to showcase of highly smart and talented, other than a prominent talented personality that amazed us greatly! with not only one talent or two or even three! But more! Meet the Kuwaiti star: Dr. Ali AlSaqoby – a name that does not require introduction in Kuwait and it associated boarders.
Dr. Ali AlSaqoby caught my eyes by not only his extraordinary ability to shuffle between his super talents and work as a fully certified dentist! But also, be able to be a significant inspirational force worldwide leading to his enormous following worldwide in social media!
As he stated previously:
"Life is too short to let a single profession/interest represent you!" You are a human being with infinite capabilities, you just need to discover your passions and never give up"
Advice becomes powerful when the person giving the advice is applying it! Well, we cannot argue that he did apply it! as Dr Ali AlSaqoby is a professional soccer skills player, leading dentist, serial entrepreneur, book author and social media influencer!
A model too! I am yet to see a dentist that is more beautiful! Handsome face with gorgeous eyes and well styled hair! If he was not a dentist and professional athlete, he would definitely do a great job as a full-time model! I am sure many would agree given his numerous likes and comments complementing his extraordinary looks! Look at him!

Beyond that, Dr Ali AlSaqoby is gifted with exceptional brains! I mean he should because he is a dentist right? But that would not be enough to be labelled by science times as the most intelligent man in the middle east! so what makes Dr Ali different you say? He qualified for a prestigious highly competitive fully paid sponsored scholarship from the government, to study dentistry abroad!
Having outstanding top academic performance as high school student and his world class athletic achievement must have paid off!
Versatile highly intelligent personality!
Studying dentistry abroad in the England coming from Kuwait must have been a significant culture shock to Dr Ali AlSaqoby as I am assuming, he was so young! But Dr Ali AlSaqoby proved himself as a man with versatile strong personality and defied all odds by not only ranking high in his grades in a very demanding course and having the second most talented dental student award, but also obtaining 3 degrees (Masters in dental surgery, Bachelors in dental surgery and Bachelors in science) as quoted by several publications! All that was done during the period of being a professional soccer skills player.
Soccer guru that wowed the world with his skills!
Although not knowledgeable with soccer, his moves with the soccer ball are so entertaining and mesmerizing. I mean it makes sense since he is a highly demanded athlete worldwide. He also competed at a world class level and successfully went through the qualification rounds representing Kuwait. Dr Ali AlSaqoby became iconic to the sport of doing soccer skills as he started it on its early stages and played a huge role in promoting it, and encouraging locals to adapt it.
Previously Dr Ali AlSaqoby method of promoting the sport as concluded, is via creating beyond impressive videos of him performing soccer skills that went viral on the internet and gave him immense recognition. Many players got inspired as a result. He aggregated fame from this new sport and compensated for his unfortunate injury that stopped him from playing in the national team.
Dr Ali AlSaqoby became recognized immensely by the media as a highly skilled athlete and sport pioneer. Events managers had saw the potential in this talented man and collaborated with him to promoting their brands and, for performing entertaining soccer skills shows worldwide.
His performances involved multiple cities across several continents of the world such as UAE, England and Italy. Dr Ali AlSaqoby shows have shown incredible success for the huge crowds it gathered. That is why he got an award of one of the most influential people in EXPO Milan (The world largest Expo) Don't miss on looking them up to be amazed! Here is a photo showing Dr Ali AlSaqoby performing flawless shows that were live on TV and also challenging a soccer player of Italy national team. He clearly looks impressed!

Current president of soccer skills in Kuwait!
Dr. Ali AlSaqoby is currently the president of the soccer skills sport in Kuwait as appointed by the world federation. Dr. Ali AlSaqoby is in charge of every soccer skills related event including official championships in Kuwait. This is with no doubt a privilege that was not wasted by this talented Kuwaiti man using this opportunity to its full potential to revolutionize the sport!
From that prestigious position, Dr Ali AlSaqoby promoted the sport through various ways and organised championships, a prominent one was the world renowned Redbull Streetyle World Championships qualifier! Dr Ali AlSaqoby was the main head of the judging panel of it supported by his advanced expertise in the game. Needless to say, it gained tremendous success that was all over the news as a representative of Kuwait in the world finals, held in Miami is chosen as seen in the photo: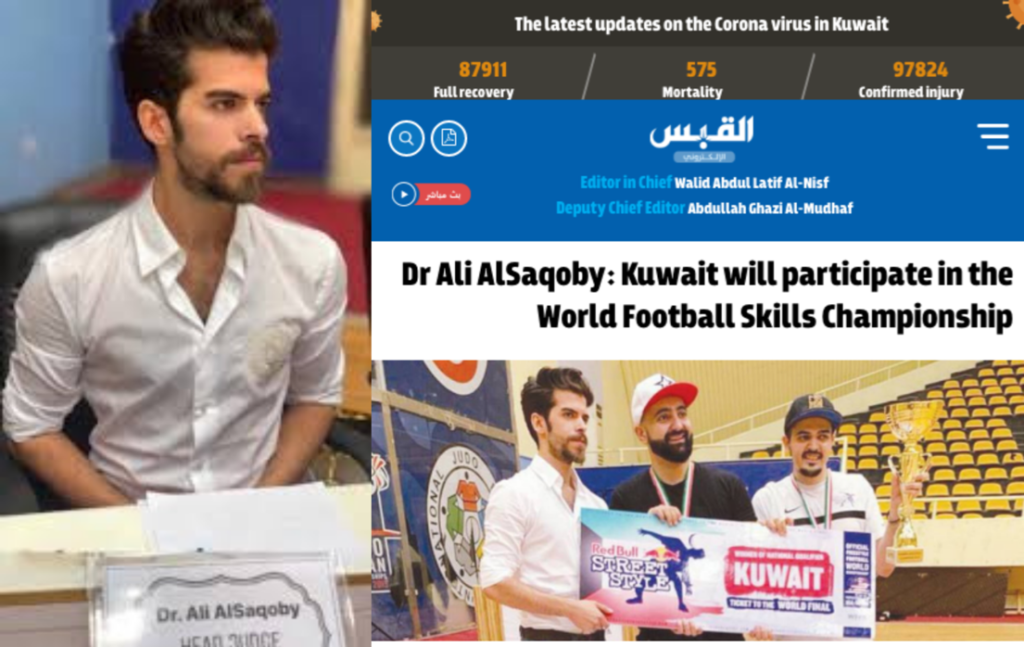 Currently, with the ongoing pandemic, such large events of championships are very difficult as gatherings are banned worldwide due to risk of getting the virus. However, this did not mean that Dr. Ali would stop creating championships. Thus, he made official championships online to keep the players safe and motivated, and of course to keep the sport alive and running!
Let's just say Dr Ali AlSaqoby went the extra mile to help grow the sport by using his talent as a book author to write a book dedicated about this new sport. The book is to be released soon with no further details given. Not according to my knowledge atleast as a keen follower! All I know is that the book is going to be amazing since it is coming from a genius that is an expert in his field! Make sure you follow him.

Laila Azzahra is a professional writer and blogger that loves to write about technology, business, entertainment, science, and health.