A significant liquidity crisis in the larger crypto market led to a wave of job layoffs and portfolio losses. Data, however, indicates that the market for NFTs is also suffering.
Since June 2021, the whole NFT sector has experienced two months with sales of less than $1 billion. The floor price of even the best-selling collection, Bored Ape Yacht Club, has decreased by over 33%, while sales volume on OpenSea, the largest nonfungible-token marketplace, have decreased by 75% since May.
Celebrities wishing to invest their riches were drawn to the bitcoin market because of how quickly it moved. Bruce Willis, Ashton Kutcher, Justin Bieber, and other well-known actors from Hollywood participated in a variety of projects. A lot of well known people purchased NFTs last year, with Bored Ape being the most desirable.
The NFT craze, is it over?
The majority of A-lister celebs have recently updated their Twitter profile photos back to their normal PFP, removing their NFT.
Why did they initially choose to purchase NFTS?
Few celebrities spoke up to share their motivations for purchasing NFTs. Jimmy Fallon bought an Ape because, after discussing it with Hilton, he decided it was a smart move. Celebrities who are billionaires might buy NFTs since that's what everyone else is doing.
Studies indicate that the high return on investment is the true cause of the NFT craze. Only 14.7% of participants indicated they purchased NFTs in order to be a part of a community, whereas 64% claimed to have done so in order to gain money. Even while the study does not directly focus on Hollywood celebrities, it would not be unexpected if A-list celebs wanted large returns on their investments.
In addition to celebrities and cryptocurrencies, the bear market is also having an impact on massive NFT marketplaces like OpenSea. OpenSea 20% workforce reduction was due to "crypto winter."
Major cryptocurrency firms including exchanges, lending platforms, and marketplaces have slashed personnel levels as a result of the bear market in Bitcoin and other cryptocurrencies. The layoffs highlight the catastrophic status of the cryptocurrency industry, which has seen a value loss of more than two-thirds from its peak during the past year.
It is apparent that NFT collections are suffering from the bear market's consequences if markets are having trouble. Josh King Madrid, co-founder and CEO, announced on Twitter that his project was reducing supply of the popular NFT collection, Paper Boyz NFT, and that he has since come to the conclusion that NFTs are more influenced by the market than by the utility value after launching Paper Boyz NFT at one of the bear market's lowest lows. The speaker said, "This is for folks who wish to use our upcoming product and visit our event. The purpose of NFTMagazine.com won't change regardless of how many individuals purchase our lifetime access pass—whether 300 or 3650 people do so now. When the next bull market arrives, we'll be prepared since we'll be here building during the bear market. We are here to stay, along with NFTs.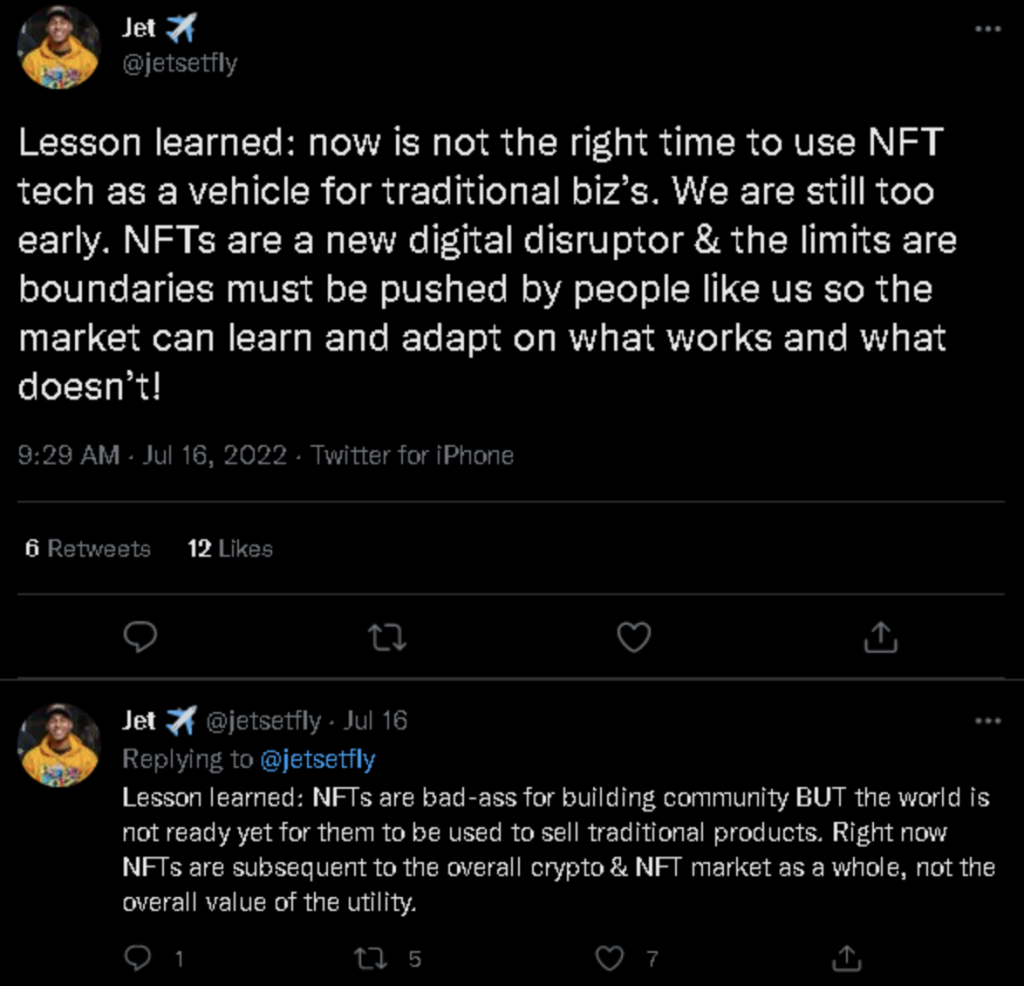 A few days later, only a small portion of the collection's 3,650 but now 365 NFTs had been sold.
A wonderful example of a well-known NFT from a company with plenty of experience but isn't performing nearly as well as anticipated during this crypto winter is the Paper Boyz NFT, which launched on July 15.
The crypto market is currently in a slump, making it difficult for new collections to succeed unless they are given away for free or sold for extremely low prices.
Since the beginning of the year, ether's price has decreased by around 70% since the market meltdown. Since then, "free mints" have become the standard, making paid mints obsolete. Creators give away NFTs in the hopes that they would generate revenue from resale by taking a 5- or 7-percentage-point cut.

Laila Azzahra is a professional writer and blogger that loves to write about technology, business, entertainment, science, and health.