Biotech entrepreneur and CEO of Fortress Biotech, Dr. Lindsay Rosenwald, has put his New York City apartment up for sale. The pricetag? $65 million dollars.
Rosenwald's investment in the property nearly doubled; with his original purchase price of the property being $30.55 million. The apartment is located in New York City's Upper West Side and sits inside the exclusive 15 Central Park West building.
In 2019, Dr. Lindsay Rosenwald helped Fortress Biotech achieve successful end of year earnings. Their 2020 potential is further solidified after the announcement of partnerships with AstraZeneca and the Cincinnati Children's Hospital Medical Center.
Beautiful Upper West Side Location
Dr. Lindsay Rosenwald's luxury apartment is located at one of the most exclusive buildings in NYC: 15 Central Park West. This location is just a few minutes' walk from Central Park and the historic Lincoln Center.
Distinguished architect Robert A.M. Stern originally designed the building, which also has a private billiard room, library, health club, and entertainment suite. NYC's Upper West Side boasts a number of world-renowned restaurants, however, residents at 15 Central Park West have access to their own private restaurant in the building. Many other high-profile residents own property at 15 Central Park West. Known as one of the most luxurious apartment buildings in the world, it attracts both royalty and billionaires.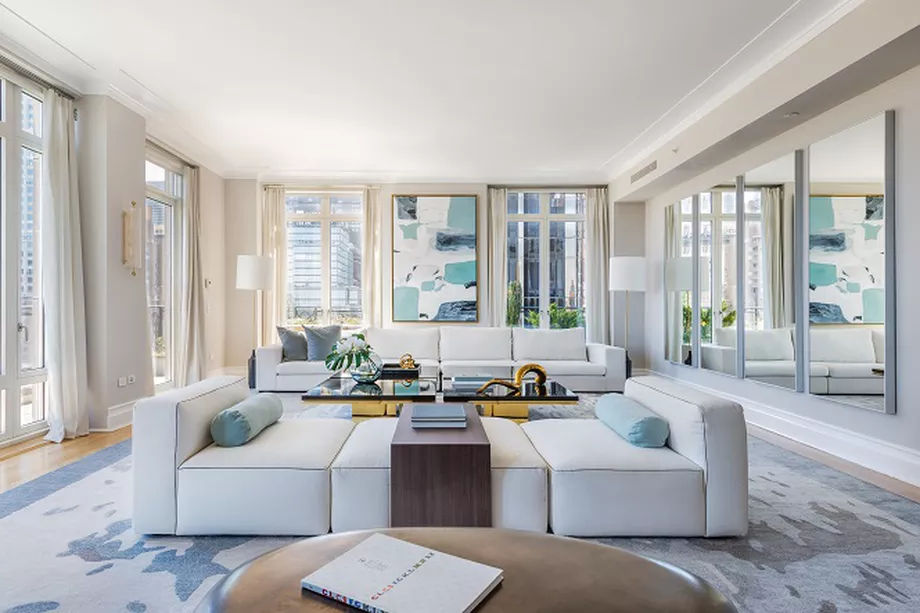 About the Property: 5,000+ square feet, 2 floors, and studio suite
Dr. Lindsay Rosenwald's 5,000+ square foot corner penthouse is located on the 18th and 19th floor of the building according to Curbed.com, real estate blog.
The apartment's lower level on the 18th floor is intended to use for entertaining and hosting guests. As visitors walk into this apartment, they first enter a reception area with a powder room. This level also has a grand dining room, a full-size kitchen, and a studio apartment for service staff. There is also a wrap-around outdoor terrace with spectacular views of Central Park.
Up a level, on floor 19, is the actual living space of the apartment. This level has a master bedroom ensuite fit with a bathroom, dressing area, balcony, and walk-in closet. There is also a sitting room on this floor along with three additional ensuite bedrooms with bathrooms.
This apartment also has a number of other rooms fit for the world's richest individuals. These include a wine cellar, library, private elevator, and extra storage units.
As Rosenwald guides Fortress Biotech in the coming years, it is not known where he will live if he finds a buyer. However, according to reports, the biotech entrepreneur does own a number of other properties.

Laila Azzahra is a professional writer and blogger that loves to write about technology, business, entertainment, science, and health.