A mechanical keyboard is better than an ordinary computer keyboard because it is well designed, illuminated, and programmable. In the article, we will learn about how to choose the best mechanical keyboard for the office. At first, we try to know why a need occurs to use mechanical.
Why it's essential to use a mechanical keyboard for office?
Everyone would want to wind up his office work as soon as possible to get rid of boring financial reports, essays, data entry, and much more. Of course, they are disturbed by these cheap rubber membrane keyboards, and sticky Keys create frustration.
Moreover, ordinary keyboards come with an old age fashion and are unresponsive. They take maximum work hours and spoil the enjoyment time. That's why everyone would want to the next level.
On the other hand, mechanical keyboards are very smooth, responsive, attractive, and has a fast keystroke. Some have magnetic rubber on keycaps, which creates incredible comfort and ensure a good user experience.
It's essential to use mechanical keyboards for office to work fast and deliver accurate results to your clients or Boss in less time. Besides, you can save your hours to enjoy life more within your family.
When you press a key, tactile feedback will inform you the key is successfully pressed on a mechanical keyboard. Moreover, these are adjustable, and you can customize your keyboard's actuation as per your needs.
With the help of a mechanical keyboard, you can wind up your office works such as reports, essays, summaries, B2B articles, and other typing works accurately within less time. Also, you can enjoy your work at night with beautiful lighting.
Corsair gaming, Lofree, Backlit, Steelseries, corsair k70, Blackwidow chroma, Razer Blackwidow, Logitech, Blackwidow ultimate are some examples of mechanical keyboards. They are also fast, customizable, ergonomic, strafe keystroke, non-sticky, and have keystrokes durable.
How to choose a right mechanical keyboard for office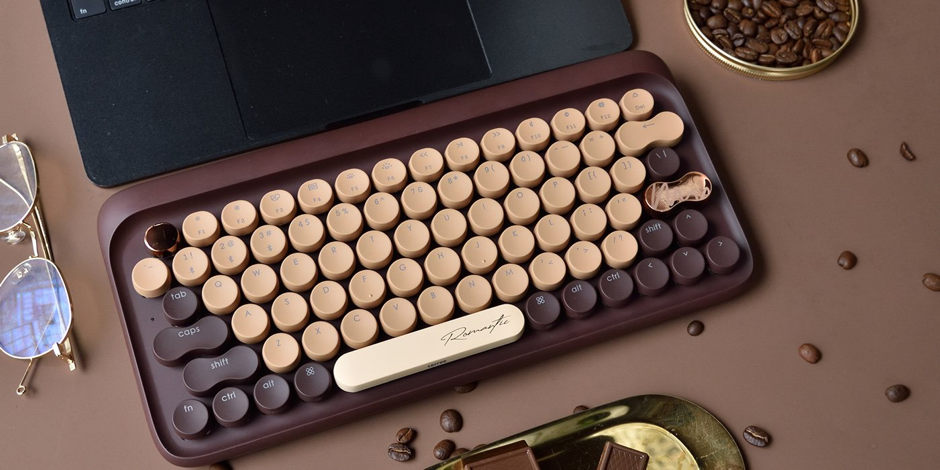 Most people face some difficulties while choosing a mechanical keyboard for office. They are right because it's challenging to select the best keyboard from thousands of attractive, beautiful, and incredible keyboards.
Moreover, it needs exceptional care when you decided to choose because you have to find out the best one from thousands of brands and companies. Here below some attributes; follow them to select the best one.
Layout
At first, please take a look at their layout. If you want to use it only for office purposes, find out that it should have 79 keys, including arrows and function keys.
It must also have 4 rubber legs at the back that will raise the key high from the desk. That is to say; it would be easy to use. However, office keyboards are also similar to mechanical gaming keyboard.
Keyboards with such a layout might be the best for typing because of their rubber legs and cheap cost. These only contain alpha keys and number keys that are enough for fast and responsive typing.
Moreover, you can choose simple, stylish, and creative designs to increase your productivity. Try to find 4 levels of adjustable LED monochrome or RGB backlighting that are really cool.
Switches
It's the most critical part which requires exceptional care before choosing your mechanical keyboard for the office. However, we recommend choosing tactile and clicky key switches that enhance your typing speed and give some outstanding results.
Clicky switches such as Gateron Blue mechanical switch very friendly, and you can enjoy a satisfying clicking sound to relax while working on a 2m2 place. These witches are pleasant and smoother than Cherry MX switches.
Compatibility
Before your keyboard selection, make sure it's compatible with all operating systems such as iOS, Android for Pc, Windows, smartphones, and tablets. So, you can use your personal mechanical keyboard in any office and any system.
Functions
If you want to do office work quickly and relaxed, prefer the Bluetooth or Wireless mechanical keyboard for office. Moreover, it must be connected to three devices at the same time.
On the other hand, battery plays a vital role in any device because everyone would want to enjoy a fantastic battery life during his work hours. So, your mechanical keyboard must contain a 4000 mAH powerful battery.
It's time to choose the right mechanical keyboard.
Above all, now we proceed to keyboard selection based on our office needs and attributes discussed above. Here below your right mechanical keyboard for office: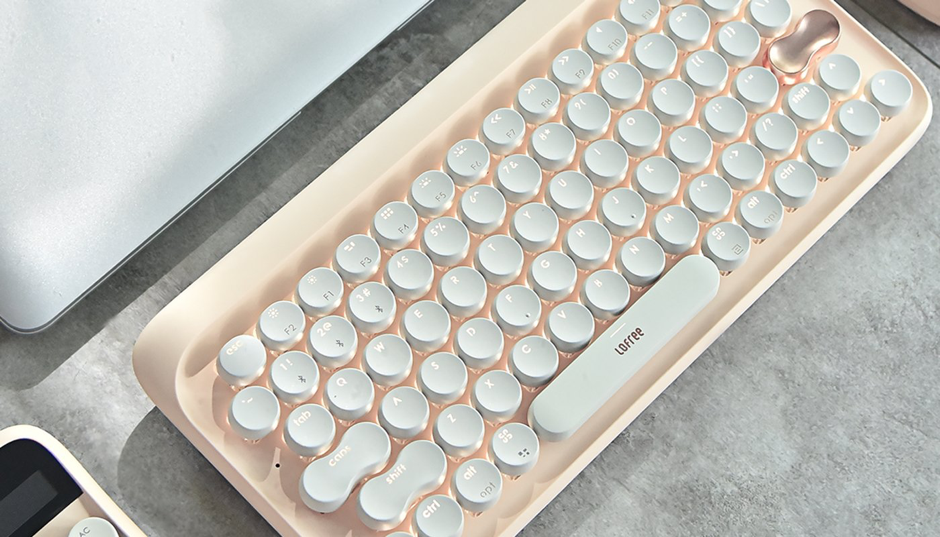 Design: a unique mechanical keyboard has rounded edges, circular keys, and an adorable retro design. A small size keyboard that looks like an excellent classic typewriter is perfect for office use.
It's cute, stylish, colorful, and small size design gives it an attractive toy look. With the help of four rubber legs at the back of the keyboard that will raise the key off from your desk, and you can press the keys in an easy & fast way. Its keycaps are cool.
Switches: Lofree Dot keyboard comes up with Gateron Blue mechanical switches that are better than MX cherry blue switches because they provide smoothness. Moreover, it has 79 keys that are enough and suitable for office work.
LED white Backlight: With 4 adjustable LED monochromic backlights, even you can type fast and correctly in a dark room. Lofree dot keyboard's N-Key Rollover facilitates the users with a fast and high typing speed.
Compatibility: Besides all features, if we look upon its compatibility feature, it's incredible. Lofree mechanical keyboard for office is compatible with all operating systems like Mac iOS, Windows, Android for Pc, tablets, and other smartphones.
Bluetooth or Wired: The best thing that might seem incredible is its Bluetooth feature. Its Bluetooth range is about 20 to 30 feet in an open space; however, it can work through a thin wall up to 15 to 20 feet. It can switch three devices simultaneously because of its Bluetooth feature, and it works well.
Battery: Lofree dot comes up with a powerful battery of 4000 mAH. It has a micro USB port for charging, and its charging duration is almost 5 hours.
Conclusion
Lofree dot keyboard is popular because of Bluetooth, Battery, and beautiful design. However, now it might seem more popular as the Lofree dot keyboard. Above all, Lofree is a well-known and famous company among the top companies in the world.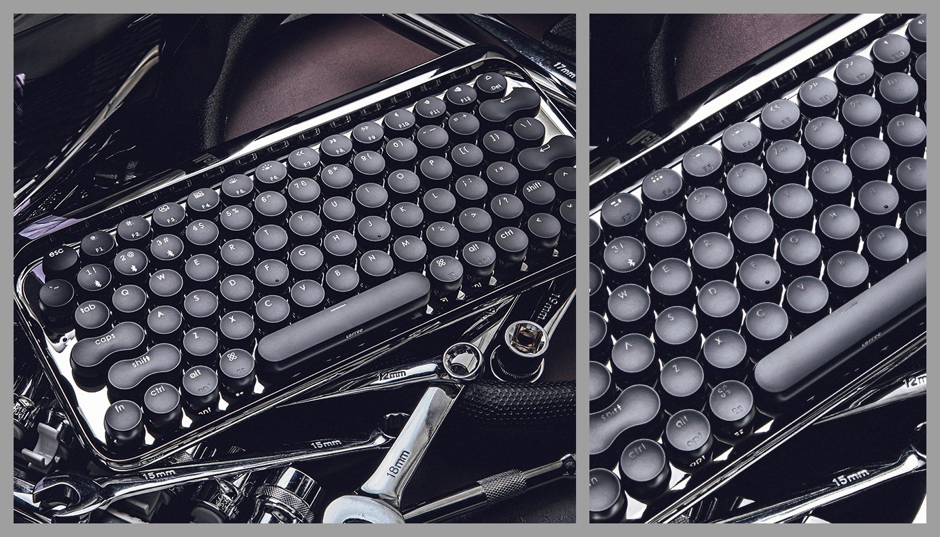 There's no penalty whatsoever returning a product you don't want. Even more, it's offering free shipping on all US orders or above $100. The keyboard & mouse exclusive combo + calculator ultimate bundle offer is incredible.
It's reliable and facilitates its users with durable products at affordable prices. It ensures 100% secure payment with PEV and is proving a one-year guarantee. You cannot regret this company, and it's highly recommended.

Laila Azzahra is a professional writer and blogger that loves to write about technology, business, entertainment, science, and health.