Finding the best way to download Facebook videos and saving them in MP4 format can be quite a hassle, but we're here the ordeal a whole lot simpler for you. Here's a detailed guide on why SnapDownloader is one of the best apps to convert Facebook videos to MP4 the easy way.
In the digital age that we live and breathe, everything needs to be available at the fingertips, whether it is your food from the nearby Chinese restaurant or the entertainment that you want to enjoy while eating it. The digital era has been most helpful to the online media industry, which has become entirely online with premium media streaming services such as Hulu and Netflix. The emergence of video sharing giants such as YouTube also convinced social media giants such as Facebook and Instagram to join the party and make the most out of the billions of views that these videos catch every single day.
To capture the flow and viewership promised by these online streaming videos, Facebook created the Facebook Watch video sharing platform built to compete with Dailymotion, Metacafe, YouTube, and others. While this does encourage Facebook and online content creators to generate money, it helps you – the users – enjoy free premium quality content at any time. However, Facebook Watch does require you to be hooked to the internet in order to enjoy the videos shared on the social media platform. This is where a Facebook video downloader service such as SnapDownloader comes in to bring more features that you could fathom.
Why Choose SnapDownloader Facebook Video Downloader?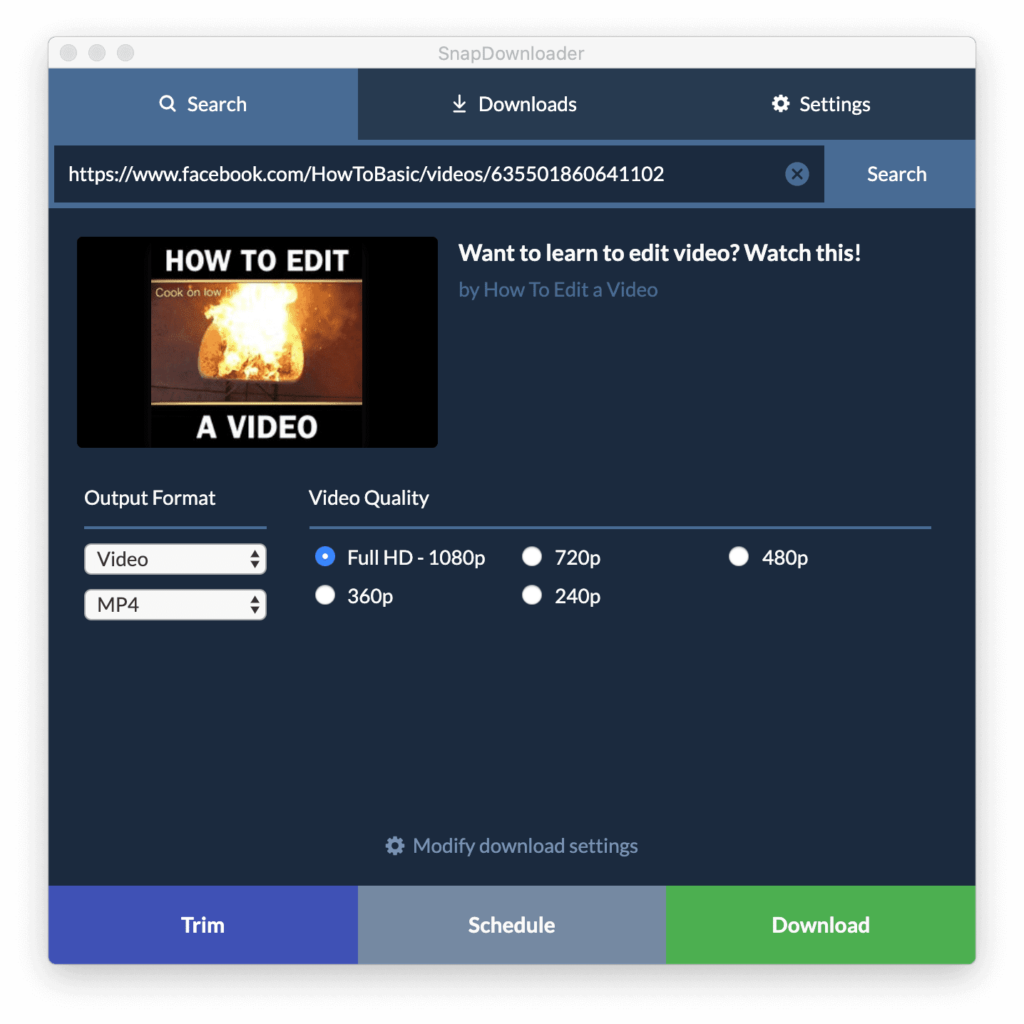 A quick search online, and you will find at least a dozen services that allow you to download videos from Facebook, so why would you want to choose SnadDownloader? Well, here's a quick summary of all the heat that this Facebook to MP4 converter packs in a tiny package.
Download Videos from 900+ websites
SnapDownloader will help you fetch videos not just from Facebook, but all the videos on YouTube, Vimeo, Dailymotion, and others, regardless of the format. It can also save 360° VR videos, and it is compatible with more than 900 websites.
Facebook Videos In 4K Resolution
SnapDownloader allows you to pick your preferred video resolution for each video you download when you queue them up. It is one of the only video downloaders out there that can fetch some videos in 8K resolution as well. You are even free to add some audio in the mix as well.
Extract MP3 Audio from Videos
This nifty feature comes in handy if you want to extract the audio content from a video podcast on Facebook. Suppose you want to download Facebook channels that have audiobooks, podcasts, or music. In that case, the SnapDownloader app is a perfect choice since it can download and extract high-quality audio from several videos simultaneously.
No Annoying Ads
Bothersome ads are one of the most frequent complaints with online Facebook video downloaders. Snapdownloader streamlines your user experience and doesn't rattle you with annoying ads when fetching single videos or entire playlists from Facebook Watch.
Easy Proxy Setup
Are some videos on the Facebook Watch channel blocked in your region? SnapDownloader enables you to effortlessly set up a proxy and circumvent geo-restrictions to download videos that are restricted in your country. This way, you can be sure that every video on Facebook is within your reach.
Easy To Use
Despite so many features brought together to give you a comprehensive solution, SnapDownloader is quick and easy to use, and all its components are simple to navigate. It allows you to download Facebook videos in MP4 in record time with unmatched download speeds and no limits.
How to Convert Facebook Videos to MP4 Using SnapDownloader
Step 1: The primary action you need to take is downloading SnapDownloader and installing it on your Windows PC or Mac computer by following the installation wizard.
Step 2: Now, go to the Facebook website using the computer's browser and copy the link to the video you want to download in MP4 (Copy the link given in your browser's address bar).
Step 3: After copying the video link, open the SnapDownloader app and paste the video link in the search box over at the top of the app screen. Within a few moments, you will see the entire list of the available video resolutions and output formats for the video.
Step 4: Select the output format as MP4 and video quality that you want. For instance, once you choose the output format to be MP4, select 1080p as the video resolution.
Step 5: Once you are done choosing the quality and output, click on the Download button, and wait for the process. Head over to the Downloads tab and see how long it will take to download the desired video. Once the download is finished, you can view the video by double-clicking on it.
That's it! You have just learned the steps to download Facebook videos using the MP4 downloader tool built by SnapDownloader.
There are a bunch of apps that can assist you to download Facebook streams from the platform, but they all come with some form of complexity. Fortunately, the SnapDownloader app can help you download Facebook videos in MP4 format, along with the ability to download videos from 900+ sites quite easily in just a few seconds.
We hope this guide has aided you to download Facebook videos with ease using SnapDownloader. But, if you still have any doubts about it, share your thoughts with us in the comments section.

Laila Azzahra is a professional writer and blogger that loves to write about technology, business, entertainment, science, and health.