Social media is an important part of daily life for most people these days, making it a vital tool for digital marketing. It is great for spreading brand awareness, connecting with your customers on a deeper level, providing better customer service, and increasing revenue. Over four billion people use social media in the world, and the numbers are continuously rising.
With 2022 nearly upon us, it is time to reevaluate your social media marketing plan for 2022. Social media platforms are frequently changing and evolving, adding new features to make marketing more effective. That is why we created this guide to help you plan out your social media strategy for the new year.
Set Realistic Social Media Goals
What are your Goals for Social Media?
Before you can start planning out your social media strategy for 2022, you need to figure out what you want to gain from your social media this year.
For example, if you want to increase your brand awareness, you need to tailor your plan for that purpose. If you want to drive more traffic to your site, you need to set up your plan around that. You can have multiple goals and plan your strategy accordingly, but you need to have an idea of what you want to gain from social media marketing before you can plan.
Use Interactive Marketing
Social media gives you the opportunity to interact more with your customers. If one of your goals is to increase brand awareness or to connect with your audience and provide better customer service, this is a good strategy to use. Your customers want to feel like your brand understands them, and a good way to make that happen is through interactive marketing. Some popular types of interactive content include:
Games
Videos
Augmented reality of your products
Polls and questionnaires
Photos and infographics
Calculators related to the buyer journey
Interactive white papers and eBooks
Interactive emails
All of these types of interactive content can be included on your social media channels to engage your customers. They will feel like you are giving them a chance to be heard, and you can use the data gained from these interactive tools to learn more about what your customers want to see from you.
Work with Influencers
Influencers have changed the landscape of social media marketing. If one of your social media goals for 2022 is the increase brand awareness or to increase sales, influencers can help make that happen. People tend to trust what influencers have to say about the brand more than the brand's marketing message, which is why the influencer industry is booming. Approximately 70 percent of teens trust influencers more than traditional celebrities, and 40 percent of millennials feel like their favorite influencers understand them more than their friends do. However, people seem to prefer micro-influencers over mega influencers these days. Micro-influencers are usually more niche-based, so they can better target your audience, and their followers are often more loyal followers.
Influencers can now help directly with sales too. Social media platforms include in-app purchases, so as this grows, you can now work with influencers to have the in-app purchases included in their posts about your brand. With this addition, influencers will begin to play an even more important role in social media marketing. TikTok is also testing a new feature that will let influencers tag other profiles in their posts, which will make it easier for influencers to direct users to your profile and increase your conversions.
In-app Purchases
If one of your goals is to increase sales, the in-app purchasing we mentioned above will come in handy on social media. While offering promotions, discounts, and giveaways are nothing new on social media, in-app shopping is much bigger than that. On Facebook, a business can have a small store set up for purchases, and many social media ads now have an option to purchase directly through an ad. While you still want customers to come to your website, this is a feature that makes it easier for your customers to purchase your products without having to leave the app they are in.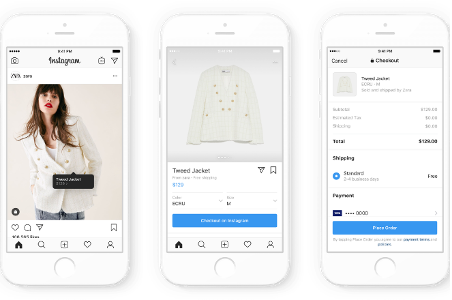 Ephemeral Content
If your goal is to increase your engagement, start using ephemeral content. Ephemeral content usually lasts 24 hours, but it tends to have a positive impact on your social media. These are the Stories on Facebook and Instagram and the Snaps on Snapchat. Twitter briefly had its own version of Stories, but it did not last long. Your Stories can be short video clips, photos, or something interactive, like asking your audience a poll question or promoting a sale. Approximately 500 million people use Instagram Stories every day! By embracing ephemeral content like this, you can increase your engagement and spread brand awareness.
Livestream Videos
People love watching videos, and live videos are great because they show your audience who your brand is in an unedited way. Demand for live videos has been rising, with Facebook and Instagram both offering a live streaming feature. You can hold live sales, host a Q&A session, unveil a new product or service, or just show your audience what your business looks like behind the scenes. Livestreaming videos are also good for hosting virtual events like concerts.
Sharing live videos can be stressful, but it will help increase your engagement and reach and help you connect with your audience on a deeper level.
Reevaluate Your Hashtag Use
There is no doubt that hashtags can help boost your reach on social media posts, but you need to be using them effectively to get the desired result. If your goal is increased reach on social media, take some time to evaluate the hashtags you are currently using. The best way to do this is to put together a list of ten to 20 keywords or keyphrases that you want to target. Once you have those, go to whatever platform you are posting on and do a hashtag search for those words. What posts show up? Is there a ton of posts that are completely unrelated to your industry? Does it look like your target audience is engaging with the posts? How does the overall engagement look?
The answers to these questions will help you decide if you should use that hashtag or if you need to try something else. Make sure you also search for hashtags you are currently using, too, so you can weed out any that do not get the engagement you want.
The other thing you should consider doing with your hashtag strategy is not using 30 of them in a single post. Instead, select up to ten hashtags per post and try to avoid using them in the body of the post. We know that you want to reach as many people as possible with your posts, but many people find this trend to be irritating and will ignore posts that are stuffed with hashtags.
Aim to Connect, Not Sell
When you follow a brand on Facebook, if their posts are about nothing but selling their products, you will start tuning their posts out and eventually stop following them. Your audience feels the same way. Use your social media to connect with your customers and engage with them, do not try to sell. If they feel a connection with you and your brand, they will convert eventually.
Keep an Eye on the Algorithms
Social media platforms update their algorithms often, which can make it hard for your posts to be seen. Stay up to date on algorithm changes so that you can adjust your strategy to keep your posts in front of your audience. The best way to do this is to search monthly for any algorithm updates on the social media platforms you use and adjust your strategy accordingly.
Conclusion
We hope this guide will help you set up your social media strategy for 2022. As long as you set actionable goals for what you want your business to get from your social media channels next year, you will be able to design a strategy to help. If you need more assistance setting up your strategy for next year, contact one of the premier digital marketing agencies available, Bastion Elevate. Their team of experts can craft the perfect social media plan for your business.

Laila Azzahra is a professional writer and blogger that loves to write about technology, business, entertainment, science, and health.