PDF documents are always one step ahead regarding restrictions and security. Working in an environment where you have to deal with many PDFs and other documents requires an all-in-one PDF editor to continue to stream the workflow. Indeed, PDF files need an editor to view and alter their content.
UPDF is one of those PDF editors that doesn't require an introduction regarding its performance and features. If you haven't come across paths with PDF documents and editors, it's worth spending your time and looking at the benefits of using a free PDF editor. In this article, you'll see the features of UPDF that would help you solve your PDF problems.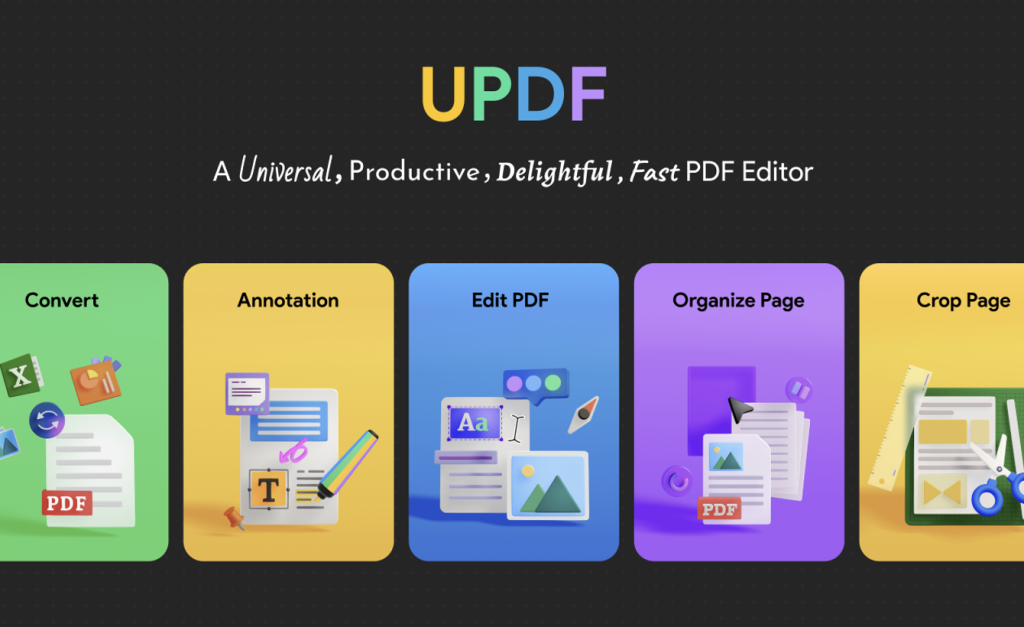 Get to Know the Outstanding Features of UPDF
It's its features that make UPDF unique among other PDF editors. The following feature will help you make your professional life more manageable and enhance productivity.
1. Open and View PDF in Blazing Fast Speed
UPDF offers a tremendous reading experience for its users. It supports a variety of viewing features that helps you keep the focus on your subject. Reading in UPDF is like reading a book or a newspaper.
Page Layouts: UPDF offers different viewing modes, i.e., single-page view, single-page scrolling, two-page view, and two-page scrolling. You can choose any of them that you're comfortable with.
Dark Mode: You can also switch to the dark theme mode to avoid tension on the eyes.
Bookmarks: Users can use bookmarks for a piece of content or a PDF page, so they don't have to scroll whenever they want to read that section.
Multi-tabs: In UPDF, you can open multiple PDF files simultaneously. Whenever you open a different file, it'll open a new tab window. Or you can also use them side by side to compare the content.
Slideshow: The slideshow feature will help while demonstrating to your team members. You can also use this feature for personal use to enhance the reading experience.
2. Edit PDF
Like viewing, you can also edit PDF contents. Or you can add new information to your PDF document. UPDF gives you the following editing features to edit your PDFs:
Edit Text: Editing the text in UPDF is way easier than your imagination. You can quickly add or delete text, change the font size, style, and color, and set the text properties.
Edit Images: You can edit images within the application, like text editing. You can rotate, add, delete, crop, extract, and replace them in your
Edit Links: Adding internal and external links in PDFs isn't the deal anymore. UPDF allows you to add links to a webpage or PDF page.
Watermark: Applying watermarks to your content gives you additional security for your documents. No one will be able to steal your information once you put watermarks on the pages. UPDF gives you three options, i.e., text, image, and PDF, to use as watermarks.
Background: To fancy your documents, you can change the backgrounds of pages. Similar to a watermark, it offers three options, i.e., background color, image, and PDF to set as background.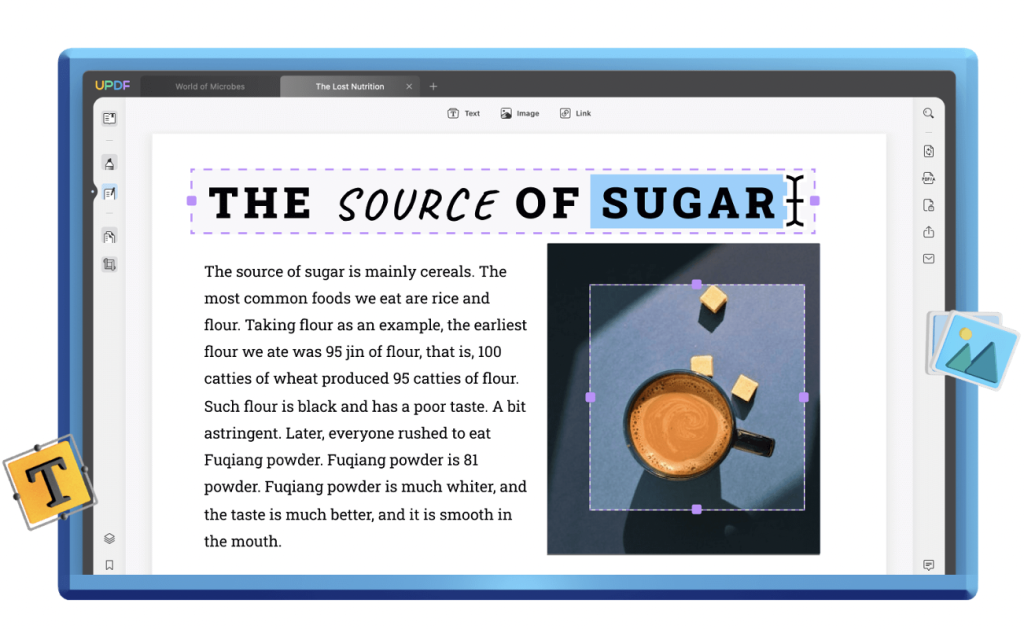 3. Organize PDF Pages Easily
Stop taking the load of unordered or unorganized PDF documents. UPDF allows you to organize your PDFs in the following ways:
Add or Delete Pages: In UPDF, you can add new black pages or delete unwanted pages from your documents.
Rotate Pages: You can change the orientation of pages by rotating left to right and vice versa.
Rearrange Pages: You can rearrange the unordered pages by dragging and dropping the thumbnails.
Split, Replace, Extract: You can split the document into multiple documents or replace and extract particular pages from different PDFs.
Crop: Users can also cut the unwanted part of pages with the crop page feature of UPDF.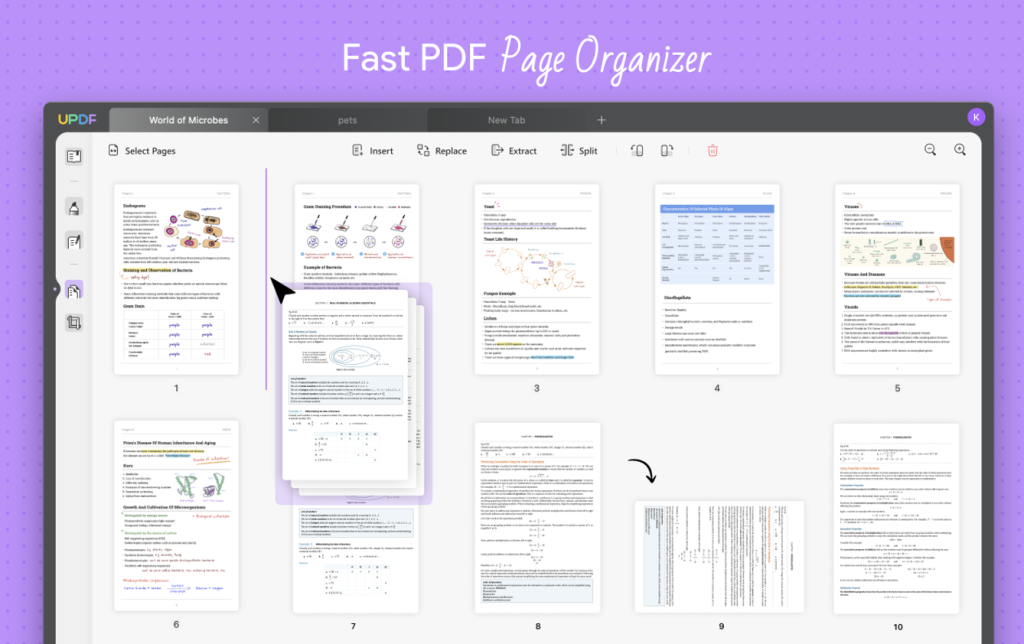 3. Annotate PDF
UPDF gives you the freedom to annotate your PDF documents with different markup features. The markups include the following features:
Comments: Adding comments helps readers to understand the efficiently. UPDF markup tool lets you add comments to any part of the document.
Stamps & Stickers: There are 100+ pre-designed stamps and stickers available in UPDF's library. In UPDF, you can also create custom stamps and save them for later use.
Signatures: UPDF allows you to create your hand-written signature like stamps. Or you can use an electronic signature on your document.
Shapes: Shapes can be beneficial with certain documents. You can add different shapes to demonstrate the mathematical equations.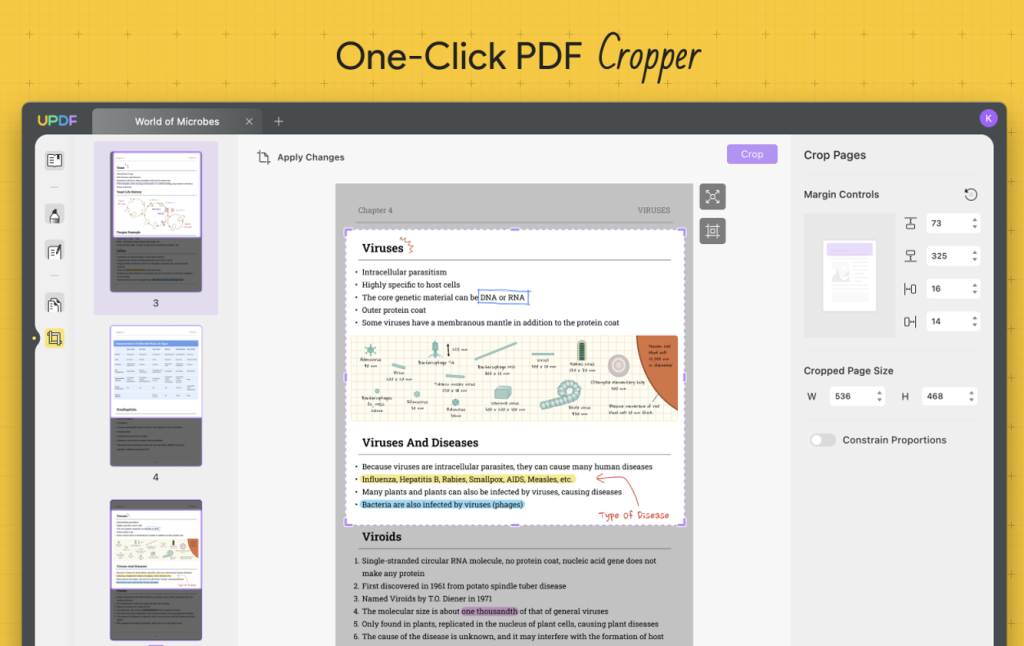 3. Convert PDF
The list of features isn't stopping at just editing, organizing, and annotating PDFs. UPDF isn't just an ordinary free PDF editor; it's a converter as well. It lets you convert your PDF documents into the following popular formats:
Office Formats: UPDF allows you to convert PDF files to Word, Excel, PowerPoint, and CSV file formats.
Image Formats: You can also turn your PDF file into PNG, JPEG, BMP, GIF, and TIFF.
Simple Text: Users can convert the PDF into a simple text format.
HTML & XML Formats: Developers can also make use of UPDF. They can convert PDF files into editable HTML or XML formats.
PDF/A Format: The user can convert simple PDF files into an archiving format.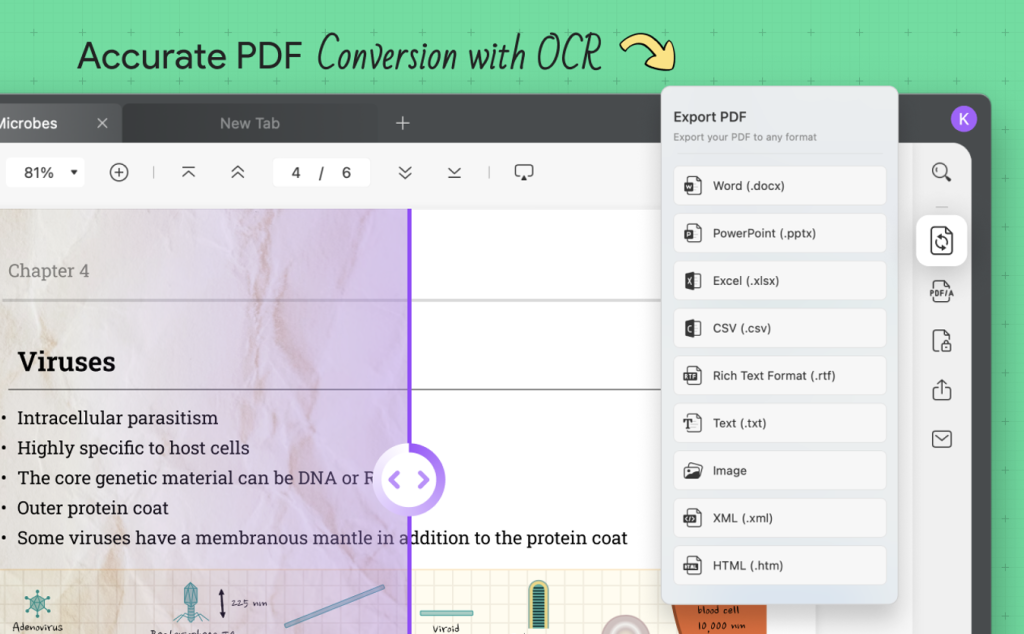 4. OCR PDF
UPDF uses Optical Character Recognition OCR technology to scan the images and turns them into an editable format. The general purpose of OCR is to convert files, but it works differently compared to other format conversions. UPDF supports 38 languages, which means you can scan any file that supports its language. It's one of the advanced features that show promising accuracy results.
Benefits of UPDF
No other tool with the exact pricing will give you all the above features. That's why UDPF is on top regarding the latest and advanced features. Moreover, you would get additional benefits while using UPDF.
UPDF got one of the best and latest user interfaces that clearly satisfy the user's intent.
No matter how massive files you are editing or converting simultaneously, it won't affect its speed. The performance will remain the same.
Of course, it's a budget-friendly PDF editor and suitable for everyone's needs.
Once you've subscribed to one of its subscription plans, you can access it on every supported platform.
UPDF is available on widely used platforms, i.e., Windows, macOS, Android, and iOS. You can use UPDF on any of the above platforms with only one account.

Laila Azzahra is a professional writer and blogger that loves to write about technology, business, entertainment, science, and health.