Physical exercise enhances the physical and mental development of children, adolescents and young adults because it improves the condition of the body and reduces the risks of acquiring diseases, in addition to providing discipline, improving mood and raising self-esteem.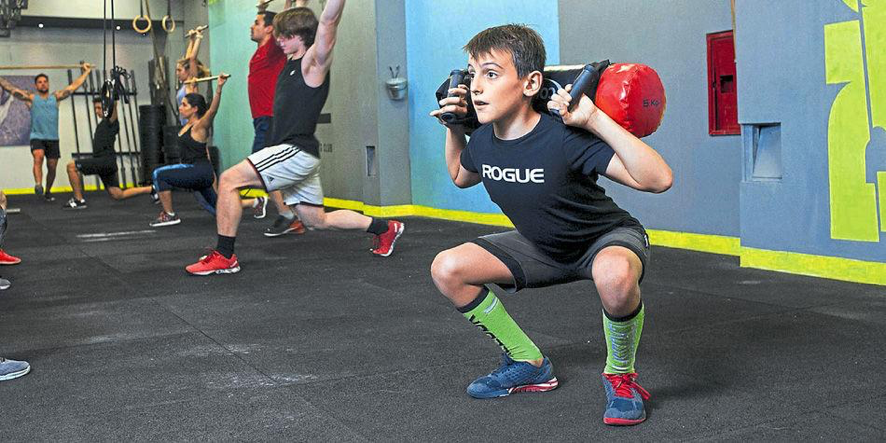 All of these benefits are needed for our kids and adolescents, specially with the situation we are living at right now. The global pandemic has put health on the first priority of everyone's life and lots of people are making more changes to improve our immune system and exercise is a perfect way to do that, according to Francisco D'Agostino.
Let's talk more about the benefits that exercising includes in both kids and young adults.
Coach Javier Sánchez pointed out that physical activity in young people also reduces "the social isolation that the use of technology has brought, since boys live glued to the screens and that has reduced their physical conditions. Doing physical activity reconnects them to reality and improves relationships with their family, friends and partners".
He explained that children should start training from the age of 8, "with cardiovascular exercises like running or cycling, and sports like soccer or baseball. From the age of 12, light loads can be added and from the age of 18, greater weights can be handled".
This is an important topic to discuss, since lots of kids don't get this exercise quota and that decision can heavily affect their growth, as well as many other subjects.
"It is recommended that young people train from 30 minutes to an hour of cardio and about 40 minutes of weights. This should be done 4 times a week," said Sánchez, who added that the boys can also participate in classroom classes such as fit combat.
"If children and young people practice martial arts such as karate, that helps improve discipline and self-control," he said. He specified that young people must have the guidance of a coach to avoid injuries and because they require more attention.
The guidance of a coach is essential in order to have good results from an exercise routine; but that's not the only reason. A coach will help you stay motivated into reaching a goal and it will also make sure that you don't get hurt by going too fast.
It is important to know our limits and don't push your boundaries too fast. Go at your own pace and start setting the rhythm that works for you.
As we can see, exercise is a key element in the lives of children and young people. Its benefits are varied and that is why here we want to tell you 5 benefits that exercise has in children and young people:
1. Less Stress
Exercising regularly can offer a number of benefits, for example reducing stress and anxiety. If you're feeling giddy with drama from your friends, difficult homework deadlines, or a family argument, try taking a 30-minute walk or hitting the gym for a quick workout. You will be surprised how exercise, even if it is only 10 minutes or less, can clear your head and relieve stress, plus improve your life considerably
2. Healthier skin
You can maintain that youthful glow well beyond your teenage years by exercising regularly. In fact, routine exercise could help delay the signs of aging for years to come. Combine your training with a healthy diet to reduce acne and keep your face fresh.
3. More hours of sleep
Are you battling insomnia or staying up late watching your favorite show? Start exercising regularly, and you may get into a healthier sleep routine. Exercise can help you sleep more soundly, and sleep longer, which will ultimately provide you with some well-rested results.
4. Stronger self-image
Exercising regularly can help you boost your self-esteem and give you the confidence you need to make your next class presentation a success or to ask your crush on a date. Discover a new level of confidence through new workouts and challenging yourself in the gym!
5. Access to a healthier lifestyle
You only live once, so why don't you make this life the best? The undeniable physical and mental benefits of exercise can set you up for a successful future! Establish healthy habits while you're young and tackle the next life decisions related to college, work, and relationships with a healthy mind and body. Even if you're new to exercising, there's no better time to start than during your teenage years!
It is now then proved that exercise has way too many benefits to let it pass. As a parent, it is important to always get the best for your kid or teenager and growing up with a dedication to sports is one of the many ways you have to make this happen.
It is also important to set up the example. Make sure you dedicate some hours per week to exercise and to provide motivation for your son or daughter to see all the benefits that this healthy habit has.
Also, identify the best places to exercise in your city and enjoy some outdoors activities to make it even better. Motivating yourself and your kid to exercise can be challenging, but it will definitely pay-off on the long term.
In a world where health is the primary concern, having a strong immune system will shield you from a lot of things and will prepare your body to fight what everyone's scared about… The COVID 19 virus.
And exercise is not the only way you can improve your immune system with. Changing our food habits to more healthy ones will also have a positive impact in our bodies and keeping yourself hydrated also has an incredible power in our bodies.
These and more tips can be found in tons of reliable sources, but it its always important to count with the help of a specialist. Francisco D'Agostino explains that if you are looking to lose weight or improve your life, then having a nutritionist can be a tremendous help.

Laila Azzahra is a professional writer and blogger that loves to write about technology, business, entertainment, science, and health.