External hard drives provide the much-needed extra space for your data. Be it for backup of photos, videos, crucial documents or for saving large gaming, movies, or video editing files, these portable storage drives are boon for managing digital data. However, external hard drives are not free from the risk of data loss, especially if not managed well. You may lose important backups, archives, and other critical data deemed to be securely stored on these drives.
Losing such crucial data can be extremely exasperating. If you are already into this unfortunate situation, read on to know how to rescue your lost files from external hard drives of any capacity and model.
But, first let's have a quick look at the common causes of data loss from external hard drives. This may be useful for you to prevent future data loss from external HDD, SSD, SD cards, pen drives, USB and others.
Common reasons – why files are deleted from external hard drives
Accidental deletion is the most common reason of data loss from storage drives. However, deletion is not alone responsible for loss of files. Bad sectors in the external hard drive, malware or virus infection, formatting, corrupt file system, etc., can lead to loss of files and folders in your external drive or media.
Sometimes files are not actually deleted. They just hide on your drive due to change in file properties settings. Further, if you are not careful in using your external drives, incidents like water/liquid spill and fall from height can physically damage the drive. This eventually leads to loss of data.
[TIPS] What you can do to prevent data loss from external drives?
Use antivirus on your computer.
Properly eject/insert external drives from computer.
Protect hard drives from extreme temperatures.
Protect hard drives from power surges.
Keep your external drives in soft cases.
Monitor the external hard drive health regularly.
How to recover lost or deleted data on external hard drive
Foremost, it is important that you stop using the external hard drive if there's a need to recover its deleted files and folders. The more you use it, the chances of recovery reduces due to overwriting of data.
A quick solution to recover lost files from external media is right away use a data recovery software. However, if you wish you can try some manual techniques to recover external hard drive without software.
Let's begin with the free manual ways to recover external hard drive or media.
1. Recover files using File History on external HDD
If the files in a folder on external drive are missing, you can try to restore them from 'File History'. However, it will work when you have enabled the 'File History' feature on Windows before deleting the files.
Follow the given steps to recover deleted files by using File History:
Open the external hard drive on your computer.
Right-click on the folder from where the files are deleted and select Properties.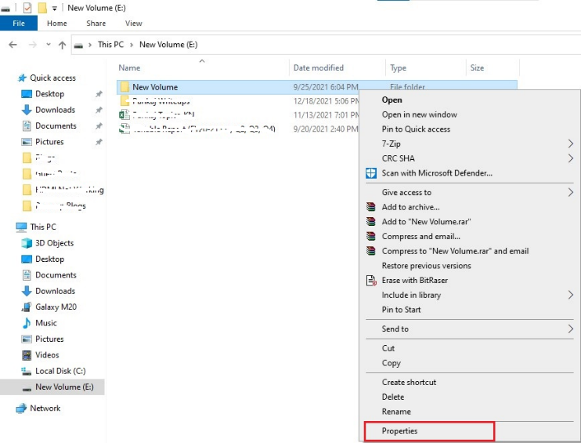 Click on the Previous Version tab and select the version that contains your deleted files.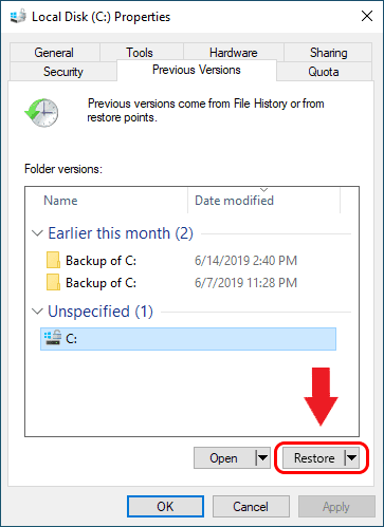 2. External hard drive files recovery using Command Prompt
Use Command Prompt (CMD) in Windows to recover deleted files on external storage drive. It uses predefined commands to fix corrupt drives, Windows program errors, and recover lost files.
Follow the steps below to recover lost files in external drive via command prompt:
Connect your external hard drive to laptop or PC.
Press Windows + R to open Run dialog box.
Type cmd in the dialog box and click OK.
The CMD window opens. Type the command ATTRIB -H -R -S /S /D E:*.* and press Enter. Here E is a drive letter.
Wait until the process finishes. Next, check if the deleted files are restored in the external drive or not.
3. Recover deleted files from external hard drive with software
Unlike the manual techniques, software method is more reliable to get back the deleted files from external hard drives. Some advanced data recovery tools can even retrieve permanently deleted files from corrupt, formatted, and encrypted hard drives and partitions.
Although there are several data recovery tools, we recommend a popularly used and 100% safe Stellar Data Recovery Professional. A quiet easy to use software with several useful features, which make external hard drive recovery easy breezy. It supports recovery from external HDD, SSD, USB flash drives, SD cards and others. You can recover unlimited files type with this software such as documents, photos, videos, music, emails, html, database files, and more.  The software is compatible with Windows 11, 10, 8.1, 8, 7, Windows Vista, and Window XP. 
Let's know step-by-step how to recover deleted files from external drives:
Step 1: Download and install Stellar Data Recovery Professional on your laptop or PC.
Step 2: Connect the external hard drive to your system and launchthe software.
Step 3: Select the type of data you want to recover from external drive. Click Next.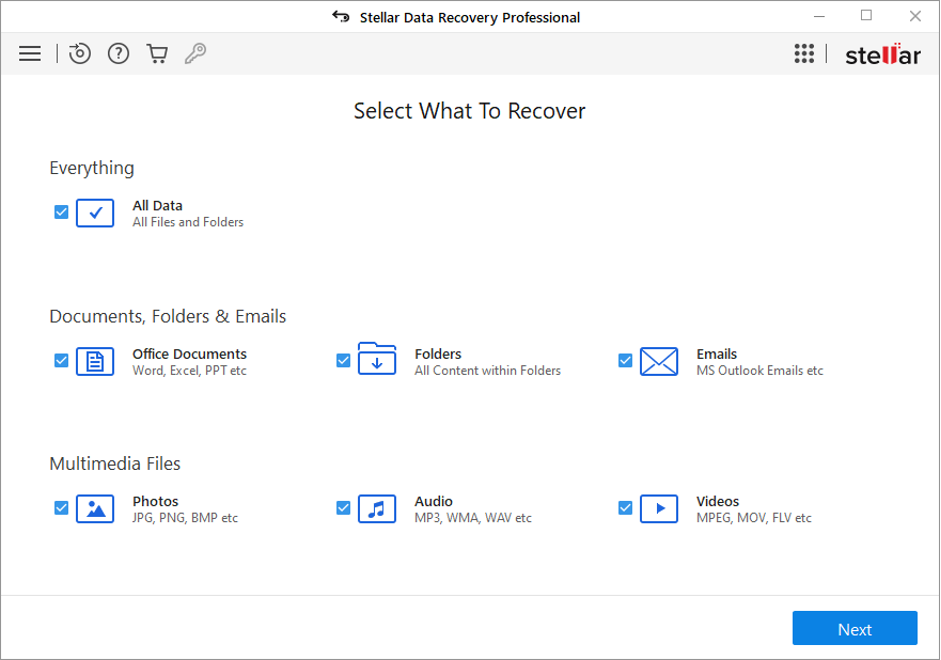 Step 4: Select the external hard drive for scanning. Click Scan. Don't forget to turn on Deep Scan for corrupt or formatted external drives recovery.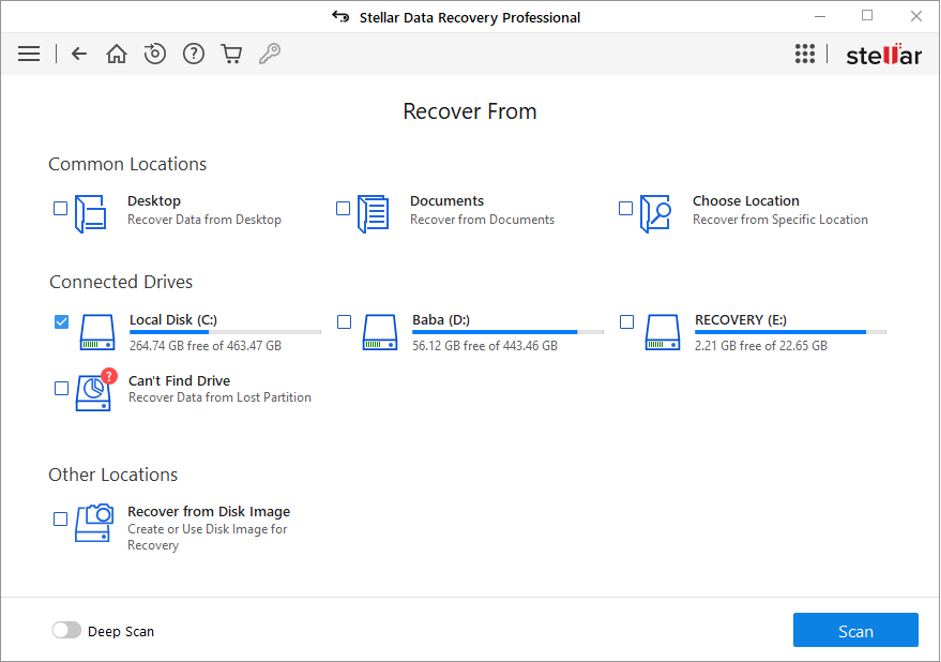 Step 6: After the scanning finishes, view the scan results either in File Type, Tree View, or Deleted List. Preview, select the files, and click Recover.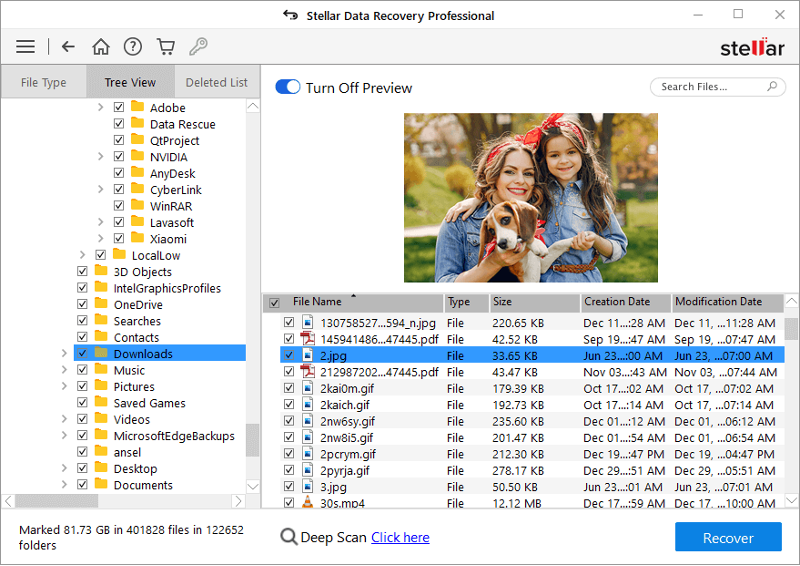 Step 7: Select the destination to save the recovered files from external HDD and click Save. Don't save the files in the same hard drive from where you recovered them.
Final words
A reliable data recovery software is a quick method to recover any kind of file from external hard drives. Further, in cases of data loss due to hard drive corruption, formatting, or virus attack, an efficient software has increased chances of successful recovery. Nonetheless, the advisable approach is to take the free trial of the hard drive recovery software. It scans and displays the recoverable files, which eases the buying decision.

Laila Azzahra is a professional writer and blogger that loves to write about technology, business, entertainment, science, and health.