If you're looking for the best Instagram marketing tools to help you grow your business through social media success in 2023, then you're in luck!
We've selected the top ten most effective Instagram marketing tools to help you gain Instagram followers and grow your account overall.
Let's take a look at the best tools for you to start using this year as well as what they can do for you and your Instagram account.
Top 10 Instagram Marketing Tools
1. Kicksta
Kicksta is one of the leading services in Instagram growth, and the company prides itself on providing organic growth to its customers.
Kicksta essentially operates by interacting with target accounts on behalf of a client, thereby making the client's Instagram account stand out and get noticed by members of its target audience or niche on Instagram.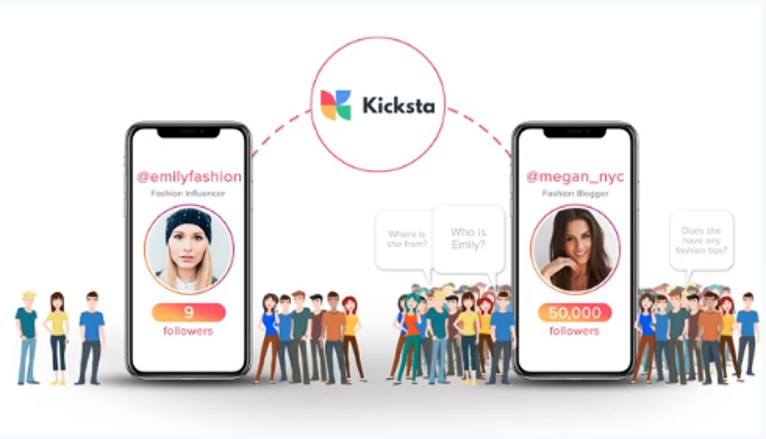 Kicksta offers various packages, adding additional features to each one. Some of the key features offered by Kicksta are:
Onboarding courses
Instagram targets
VIP email support
Blacklist services
Advanced targeting
Monthly growth boost (available in Boost Plan)
Text support
Three pricing plans are available from Kicksta, and each one includes a no-contract, cancel-anytime feature, as well as a 14-day money-back guarantee.
Kicksta's Standard Plan is available for $49 per month. The Premium Plan is offered at $99 per month. Finally, the Kicksta + TSMA Boost Plan is available for $218 per month.
2. IconoSquare
IconoSquare is an Instagram marketing tool that specializes in providing social media analytics to its customers.
Clients are able to connect multiple social media accounts to IconoSquare, where they're then provided with a dashboard that summarizes the performance analytics of each account.
Having access to such a tool allows social media managers and digital marketers to understand the performance of their various accounts and individual posts, leading to more effective social media strategies overall.
Here are some of the top features of IconoSquare:
Dashboard of analytics
Exporting reports of specific social media insights
Scheduling content for publication
Collaboration between team members
Viewing and responding to comments and mentions on social media
Monitoring audience, competitors, and individual brands
IconoSquare offers three packages with individual features and pricing; all three can be tested in a 14-day free trial. The Pro plan from IconoSquare is available for $52 per month. Next, the Advanced plan is offered for $84 per month. Finally, the Enterprise plan is available for $147 per month.
3. Later
Later is a social media marketing tool that doubles as a social media management service and a link-in-bio tool.
With Later, users can schedule content for publication in advance, while previewing content prior to publishing. The tool also allows users to promote their websites through optimization of the link in bio feature on Instagram.
Finally, Later provides analytics so that users can monitor the success of their platforms as they go.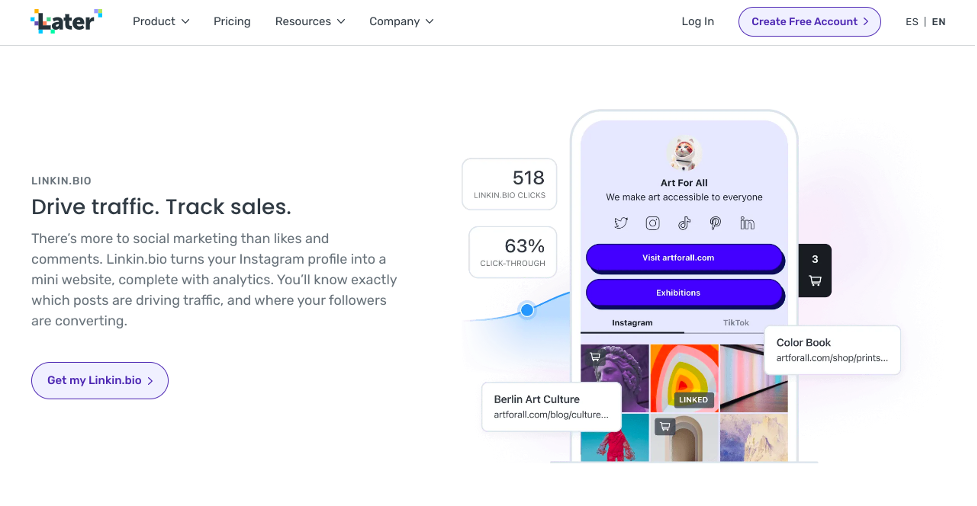 Here are some of the top features offered by Later:
Customizable Linkin.bio page
Collab tools for creators and brands
Full analytics (up to 1 year of data)
Team and brand management tools
Live chat support
Later's Starter plan is available for $18 per month; the Growth plan is offered for $40 per month, and the Advanced plan is priced at $80 per month. Later also offers the Scale 15 and the Scale 30 plan; these are best suited for those who are managing multiple brands in team settings and need maximum capacity.
The Scale 15 plan costs $200 per month, and the Scale 30 is available for $400 per month. All plans from Later are offered with a 14-day free trial.
4. Sprout Social
Sprout Social is a social media planning and management tool that helps you to stay ahead of the game in social media marketing.
With Sprout Social, users can track social media trends among their niches in order to develop relevant content. Then, users can plan and schedule social media content through Sprout Social while also tracking analytics and engaging with followers on social media through the management tool.
Sprout Social also provides easy opportunities for employees to advocate for their own brands on social media.
Let's take a look at some of the key features of Sprout Social:
All-in-one social inbox
Social content calendar
Review management
Profiles, keywords and locations monitoring
Tasking and social CRM tools
Group-, profile- and post-level reporting
Custom workflows for teams
Optimal send times
Message spike alerts
Saved and suggested replies
Automated link tracking
Sprout Social's Standard plan is priced at $249 per month; the Professional plan is available for $399 per month, and the Advance plan costs $499 per month. Sprout Social also offers an Enterprise plan with additional advanced features, with pricing available upon request. Users can test Sprout Social with a 30-day free trial.
5. Awario
Awario is a unique Instagram marketing tool that allows users to efficiently monitor their clients' online mentions.
With unique software, Awario provides widespread tracking and immediate reporting, collecting data from over 13 billion web pages. This allows social media managers and digital marketers to monitor their clients' presence in the media and track brand awareness. This tool also allows users to conduct market research and engage with followers on various social media platforms.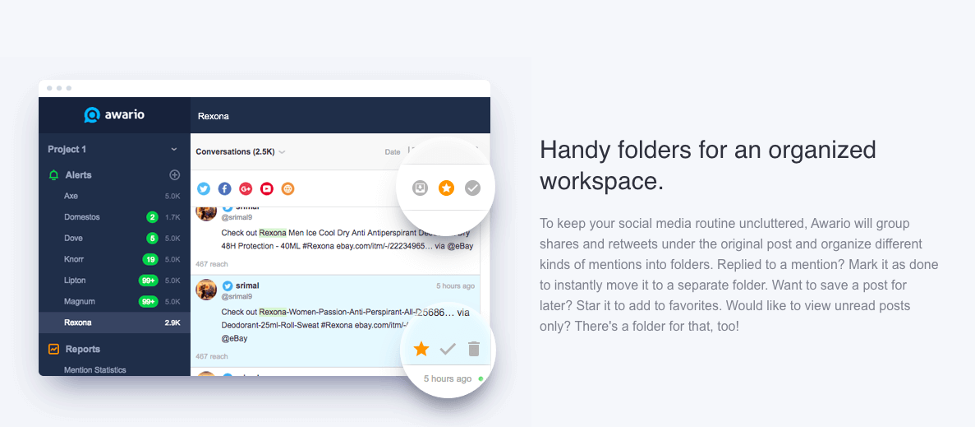 Here are some of the top features to look forward to with Awario:
New mention reports
Stored mentions for individual topics
Multiple team members
Boolean search
Data export
PDF reports
White-label reports
API
Account manager
The Starter plan from Awario is available for $24 per month. The Pro plan is priced at $74 per month. Finally, Awario's Enterprise plan is offered for $249 per month.
6. Prequel
Prequel is a great asset to have in your social media toolbox, and it stands out from other Instagram marketing tools as it's an AI-based photo editing software.
With a wide variety of effects and filters that can be applied to your photos, Prequel provides you with the ability to create aesthetically pleasing photos that fit a consistent theme on your Instagram account. Having a sharp and attractive theme on your Instagram page makes users more inclined to check out your page and give you a follow, making photo editing softwares like Prequel a valuable asset.
Here are some of the top features that users can enjoy with Prequel:
Variety of effects and filters to match unique styles
Video creation templates
3D moving picture effects
Custom fonts and text styles
Music tracks to apply to videos
Stickers, GIFs and emojis to add to photos
GIPHY text (create animated unique text stickers)
Photo editing software
The Prequel app is free to download and includes an extensive list of free features. The Prequel Gold Subscription is also available, and pricing varies by user.
7. Shortstack
If you've thought of hosting a contest as part of your Instagram marketing strategy, then Shortstack could be an effective tool for you to try out.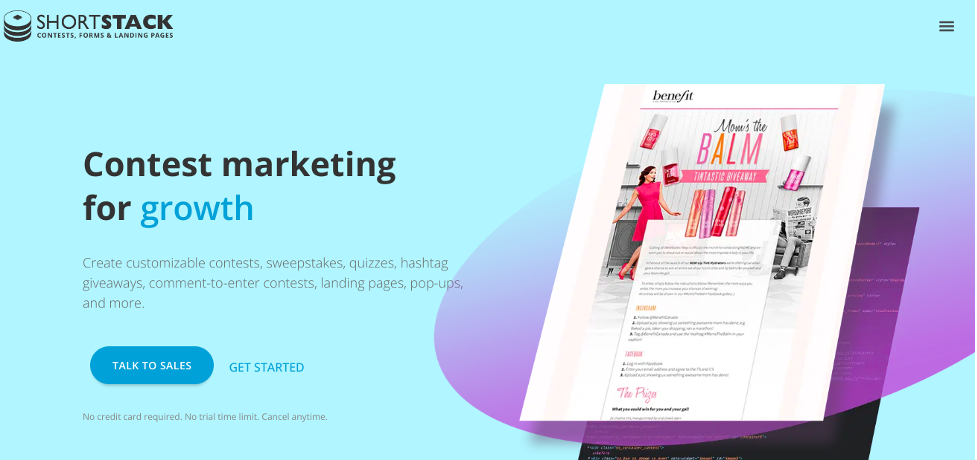 Shortstack works with a variety of small and large brands to create custom contests, sweepstakes, quizzes, hashtag giveaways, comment-to-enter contests, landing pages and pop-ups, among other things. Hosting contests and giveaways can be a great way to boost engagement and bring awareness to your account, so Shortstack is a great tool to help you host effective competitions.
Here are some of the best features to look out for on Shortstack:
Custom contests
Instant win games and quizzes
User-generated content collection
Fully customizable landing pages and forms
Flexible publishing
Easy winner selection
Shortstack's Business plan is available for $99 per month. The Agency plan is priced at $249 per month. The Brand plan is offered at $499 per month. Finally, the Shortstack Enterprise plan is available for pricing upon request. Shortstack also offers a free trial period with no commitment.
8. Mention
Mention is an Instagram marketing tool that focuses on brand insights by tracking mentions across the internet, collecting audience feedback, and managing social media.
Understanding the way your brand is perceived by audiences and how it is represented in the media is an important part of marketing in general; paying close attention to social media and internet mentions is an especially important aspect of Instagram marketing. Mention helps you to keep an eye on when and how your brand is being talked about across social media sites and other online locations.
Here are some of Mention's primary features:
Online media monitoring (social media, forums, blogs, news, review websites, etc.)
Competitor analysis
Brand management
Crisis response
Audience feedback
Social media strategizing and scheduling
Agency growth through management of clients' social media and generation of custom reports
In addition to its free plan, Mention offers a Solo plan, which is available for $41 per month. It also features a Pro plan for $83 per month. The ProPlus plan is available for $149 per month. And, Mention's Company plan is available for pricing upon request.
9. Canva
Canva is one of the most popular Instagram marketing tools, and it helps users to create visually appealing content.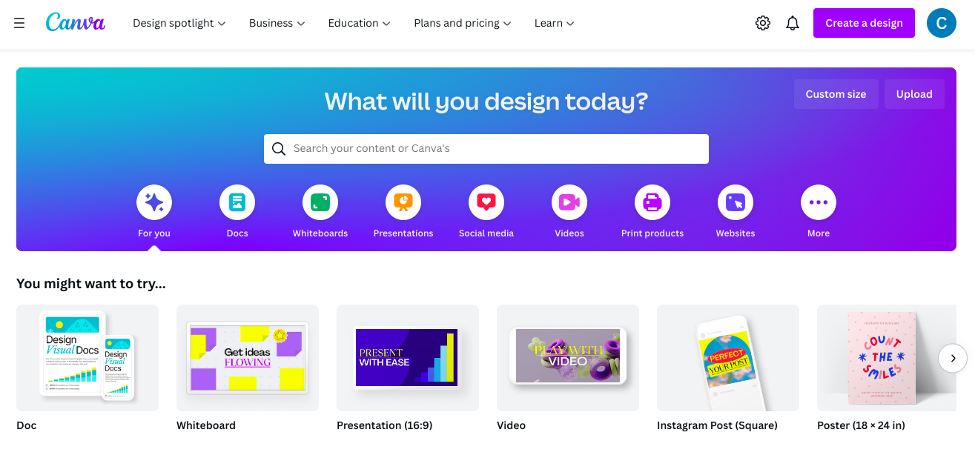 With Canva, you can create and customize graphics, videos, and animated posts in order to create an appealing aesthetic on your Instagram account. Canva offers a variety of stickers, filters, effects, and other visual features that allow users to boost their visual content to the next level.
Let's take a look at some of the top features Canva has to offer:
Ready-made designs and templates
Images and content to add to designs
Teamwork compatibility (whiteboard brainstorming, approvals, content scaling)
Ability to easily present, download, schedule and share designs
Canva offers a free plan, as well as Canva Pro, which is available for $12.99 per month, and Canva for Teams, which is priced at $14.99 per month. Both paid plans include a free trial period, as well.
10. Lightroom
Adobe Lightroom is a photo editing software that's available in a mobile app format and helps you to level up your photography skills.
Lightroom offers a variety of photo editing tools, such as adjusting exposure, color, contrast, brightness and more. By making detailed adjustments such as those available with Lightroom, users are able to create posts that stand out among other content on social media sites. So, if your Instagram account has a focus on photography, Lightroom could be an important marketing tool for you to consider.
Here are some of its best features:
Adjustment of a variety of photo features, for overall quality improvement
Preset filters in a variety of styles that can be applied to specific areas of photos
Mobile, desktop and web access with automatic syncing
Step-by-step tutorials
Detail-based precision
Adobe Lightroom is available for $9.99 per month. There's also a Photography plan that combines Lightroom and Photoshop and is available for $19.99 per month. Both plans offer a seven-day free trial.
Best Instagram Marketing Tools For 2023
With social media continuing to grow in relevance, it's important for brands to consider Instagram marketing when planning out strategies for the future.
These ten Instagram marketing tools are our best recommendations for what you should add to your repertoire.
Spend some time looking into the tools that stand out to you, and then give them a shot! It will likely be a trial-and-error process, but we feel confident that these tools can help you level up your Instagram marketing game this year.

Laila Azzahra is a professional writer and blogger that loves to write about technology, business, entertainment, science, and health.